Long Established and Leading Clarice Cliff & Art Deco Ceramics Specialists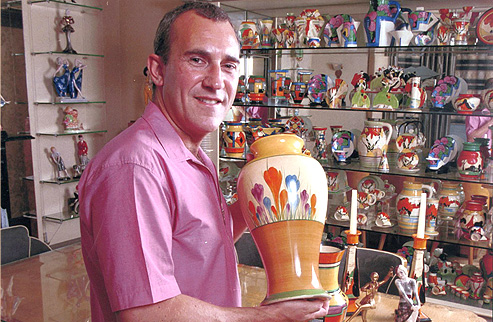 Creating a Stir
We were passionate about our collecting hobby and made a natural move into standing at Antique Fairs in 1984 at the Dulwich College fair, then organised by the formidable Margaret Brown.
At this fair we sold not a single item, our display of garish and brightly decorated pottery stood out dramatically from the more traditional stalls full of blue and white transfer china and impressive Georgian silver displays. We did, however, create a stir and were encouraged to return for the next month's fair with the offer of a free stand, which we took up and we never looked back
We took a stall in the Northcote Road Antiques Market in 1985, and were involved in the inaugural Greenwich Art Deco Fair and also the Kensington Town Hall Art Deco Fair, Loughboro Art Deco Fair Hall and the Warwick Hilton Fair, which were the first period antique fairs for the Art Deco Movement in this country. Our double stall displays of Clarice Cliff, Susie Cooper, Shelley and more became legendary.
Major Buyers
We were major buyers at the London Clarice Cliff sales, at Christies, Bonhams, and Phillips, holding the world famous Banana Dance after-sales parties at Whites Hotel, the Royal Horseguards Hotel which collectors attended en-masse. Highlights included two original Age of Jazz figurines for sale, and showing off our own showing off a selection of the rare Age of Jazz dancing figures and at the time, the only two known landscape Ron Birks grotesque masks, in the Honolulu and Seven Colour Secrets designs.
We were involved in the cataloguing of the prestigious Meisel Collection sale at Bonhams, Montpelier St and were privileged to have visited Louis and Susan Pear-Meisel in their Manhattan apartment in New York where we were able to privately purchase some choice pieces of their Clarice Cliff collection.
We were instrumental in working with Leonard Griffin in moving the Clarice Cliff Collectors' Club forward, allowing him to photograph our stock and our private collection for the Club's magazines, plus stalling at the first Club convention at the Art Deco Burgh Island hotel, pictures of which can be seen in the "Rich Designs of Clarice Cliff" book
We opened a dedicated Clarice Cliff and art deco designers shop in the Kensington Church Street Antiques Arcade in 1991, and later another in The Mall at Camden Passage, whilst always keeping our permanent base at the Northcote Road Antiques Market, where we are still trading today, some 26 years on.
We were the first general art deco ceramic dealers invited to become a member of the prestigious LAPADA organisation, and in 2001 were nominated for the BACA (British Antique and Collectables Awards) Best Specialist Dealer in the UK.
Memorable Experience
In 2000, we were invited as the first Art Deco dealers to attend the New York Ceramics Fair at the National Academy of Design, on the corner of 5th Avenue and 89th Street. We did this for two consecutive years, literally allowing shippers to completely pack, and transport our Camden Passage shop to the centre of Manhatten for a week long extravaganza of antique selling. With collectors flying across the continent from California, Michigan and driving in from Philadelphia and Virginia, it was one of the most memorable experiences of our lives all because of Clarice Cliff!
In 2002 Peter Wentworth-Sheilds and Kay Johnson, the authors of the original 'Clarice Cliff' book from 1976 returned to Britain and stayed with us in our home when they were invited to lecture at a Clarice Cliff Collectors Club event at Christie's, South Kensington.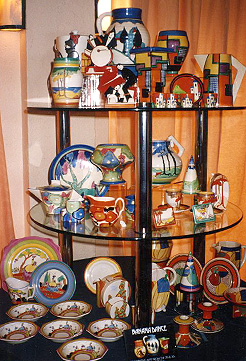 Top of the Tree
The Banana Dance massive 6 unit stand at the NEC fairs in the 1990's and early years of the new millennium definitely hit the headlines, with Clarice Cliff, and other art deco ceramics in abundance and suddenly we were at the very top of the tree, and we had turned our passion of collecting into a thriving business.
In the early noughties we took the decision to semi-retire, and stopped stalling out at fairs whilst we were at the height of our passion. We still are actively buying, advising and have our original base in Battersea, at the Northcote Rd Antiques Market.
A Collectors Handbook
In 2003, I worked with Francis Joseph to produce the book "The Complete Clarice Cliff…A Collector's Handbook" which provides pictures and prices for many unique pieces of Clarice Cliff.