Long Established and Leading Clarice Cliff & Art Deco Ceramics Specialists
BYGONE DAYS...........CLARICE CLIFF'S CAR....with myself in the driving seat and ETHEL BARROW, "The 'ORIGINAL' CROCUS GIRL", as my passenger....at one of the last great 'Coventions' with all of the 'Bizarre Girls' present
18 November 2021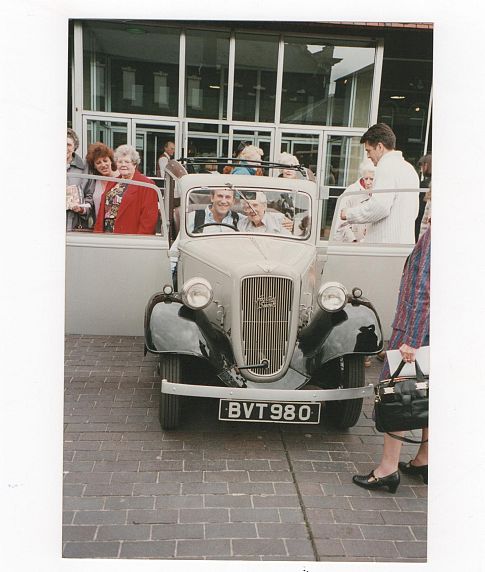 WOW!!! an old photograph taken in Stoke On Trent at one of the last conventions, I am sitting in Clarice Cliff's car, with ' THE Crocus Girl ' ETHEL BARROW as my passenger!!

Meeting Ethel was a real highlight, she was such a character, and she took great delight in showing us how she painted the 'ever popular Crocus pattern' day in and day out, and I bet you never realised that the Crocus design was painted upside down, from bottom to top to achieve the wonderful full flower-head decoration

Ethel took hold of a cup, turned it upside down and painted the crocus from stalk to bud, upside down as though she was doing it back in the late 1920's and early 1930's !!!

This superb picture was taken back in the 1990's and look to the left of the car door and see another 'Original Bizarre Girl' and a great character Elsie Nixon in the red jacket.

How they would have loved to see the new release dramatisation of Clarice Cliff's rise to fame!!